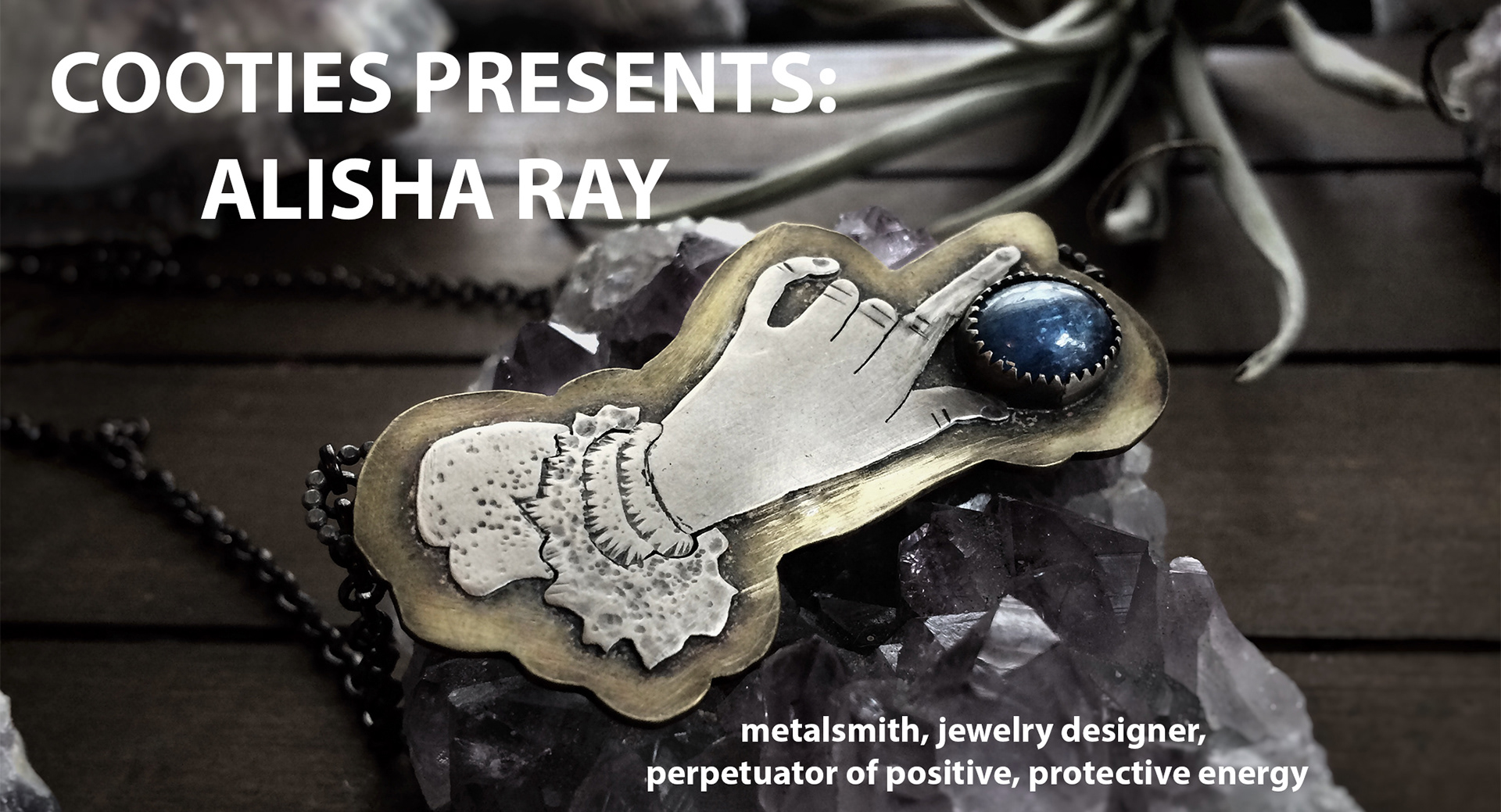 Alisha Ray graduated from Rhode Island College in 2012 with a Bachelor of Fine Arts in metalsmithing and jewelry design. She is a former press release writer for the Society of North American Goldsmiths and was a recipient of the Carol Tyler Memorial Award from the International Precious Metals Institute's 23rd annual jewelry design competition. She currently crafts dark yet playful otherworldly adornment inspired by magick and imbued with positive intent.
Cooties Zine (CZ): Tell us a bit about yourself! What inspired you to first start creating jewelry pieces?
Alisha Ray (AR): 
I went to school for metalsmithing and at the time I worked primarily with creating very technical/functional sculptural objects. After I graduated I worked at a company fabricating luxury house hardware- it was a fantastic learning experience, but I was eager to do something creative on the side to keep from going crazy! So it was an invigorating challenge to finally dive into adornment and jewelry making!
I slogged through plenty of designs and materials. Initially I was trying to assimilate myself with more traditional jewelry aesthetics. But that work didn't have enough "soul" for me. I've always been drawn to casting organic material and I kept finding myself moving in that direction. It's a fascinating process and it feels like alchemy to watch a bone or plant become eternally preserved in metal. The Ouroboros comes up a lot in my work and it's a symbol often closely tied with alchemy. It represents the cyclical nature of things ... life, death and rebirth. I think that resonates a lot with what I make. It feels like I'm breathing new life into the specimens I use. They're the same, yet completely different and going through a metamorphosis of sorts. It gives my jewelry a certain wisdom, weight, and power.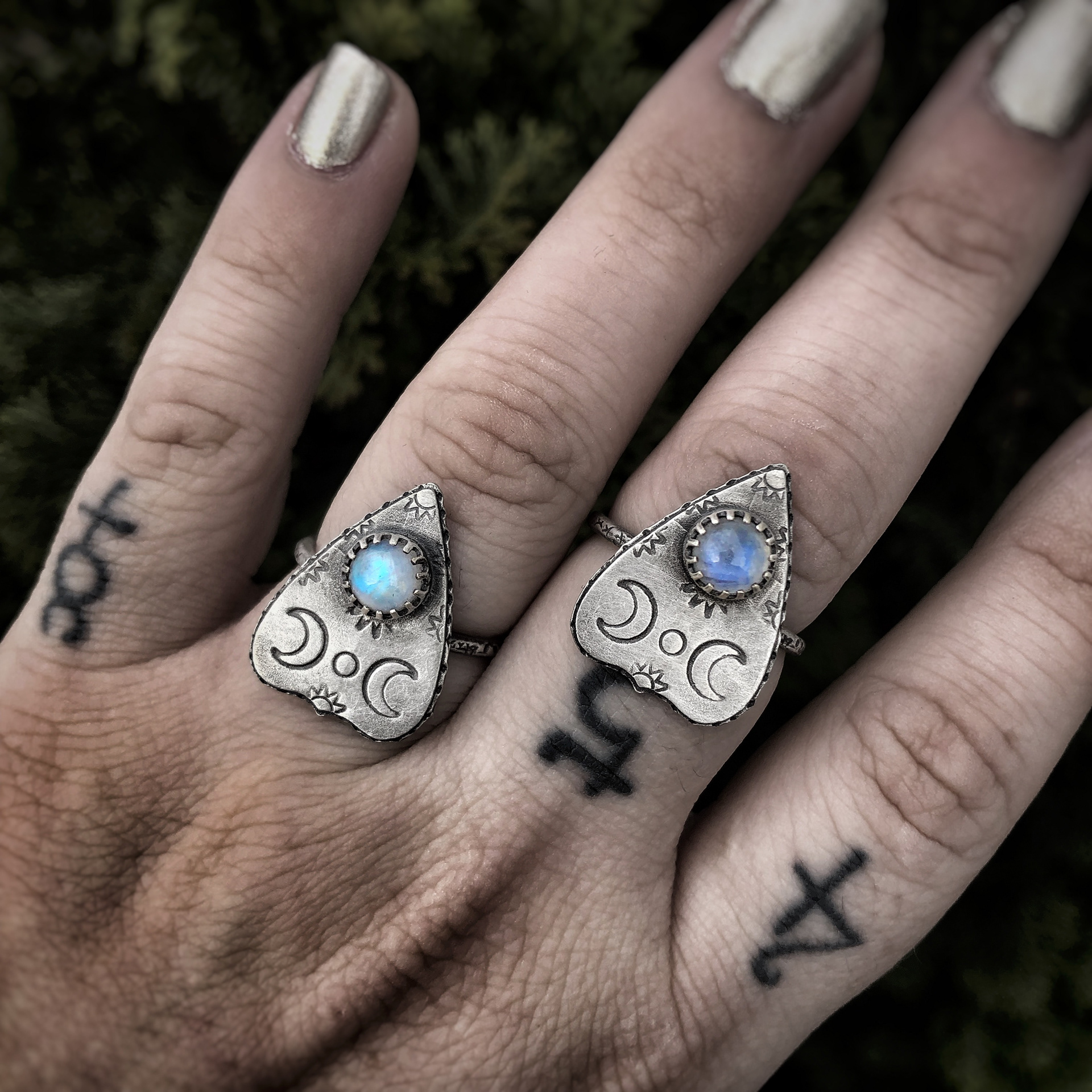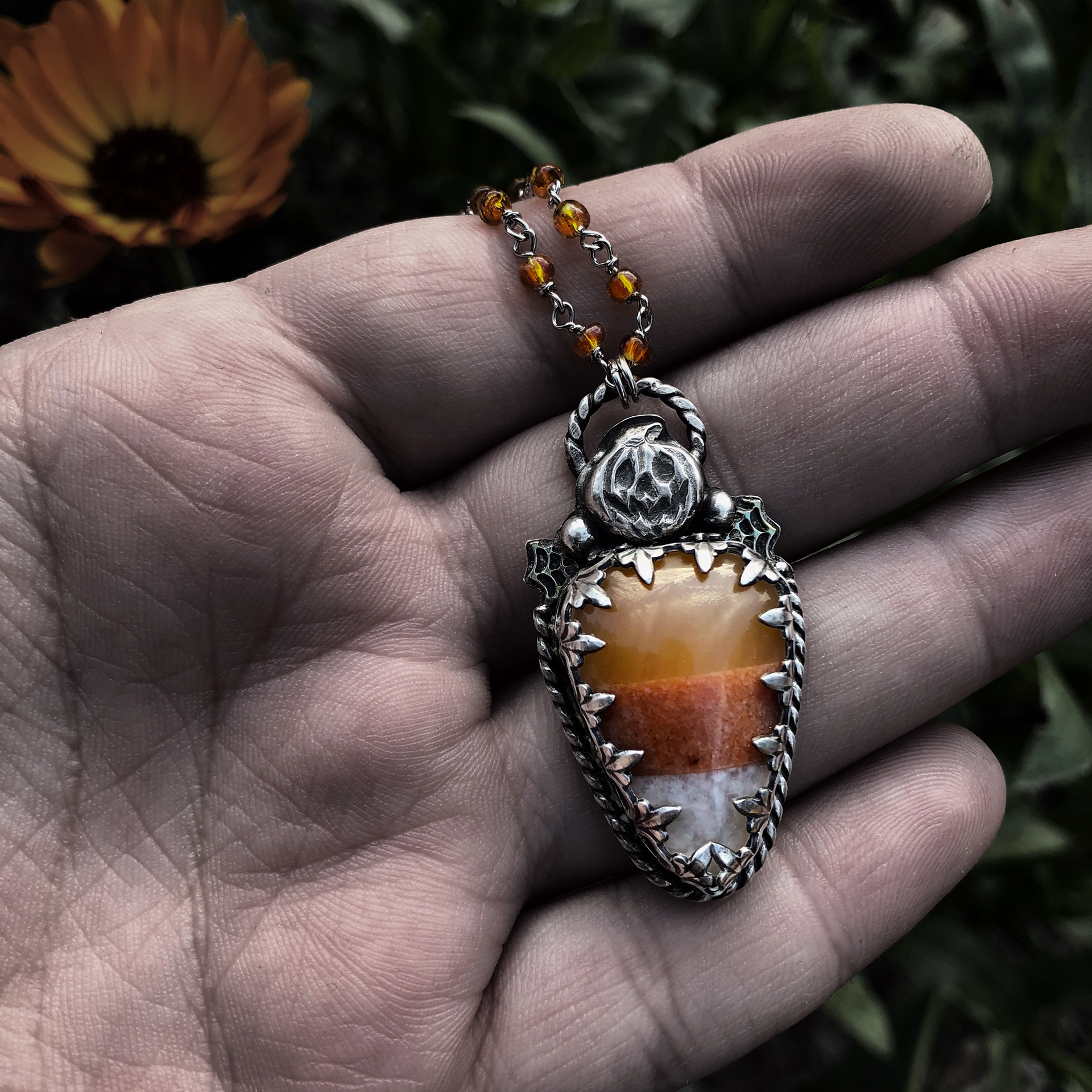 AR:
I make a lot of work with protection and empowerment in mind so it's amazing to get feedback from people saying that their jewelry feels like "armor" or gives them much needed courage during trying times. It's cool to see the work I create worn as personal talismans or used as sources of strength. It may sound strange, but I think it makes perfect sense because intent is super important and people can feel and feed off those vibes.
CZ: What is your process like? I know you use a lot of legitimate bones and crystals. How do you source these types of objects?
AR:
I often use the lost wax casting process which is how I turn organic pieces into metal. Certain objects are easier to cast than others. Some can be cast straight from the organic material and others need to be molded. I usually find interesting specimens and play around with placement and use particular symbols, runes, or sigils as inspiration to further permeate the piece with a certain idea and energy. I also create by fabricating with sheets of metal and use a variety of techniques such as soldering, forging, stone setting, stamping, etc.
As for the bones, It's really important to me that I use organic materials that are acquired ethically or were naturally shed. I do my best to respect whatever creature they came from. I have many bones and specimens I've personally collected while hiking or traveling, but many have been gifted too. I'm always receiving bones, plant pods, or crazy bugs from people! 
I get many of my stones and crystals from local shops and vendors. I'm very picky about their quality so it's really great to be able to pick stuff like that out in person. There are also a few lapidary [relating to stones and gems] artists I get specialty cut cabochons [polished gemstone] from and I'm in total awe of their skills! I like supporting other artists and local businesses whenever I can.
"I make a lot of work with protection and empowerment in mind so it's amazing to get feedback from people saying that their jewelry feels like 'armor' or gives them much needed courage during trying times."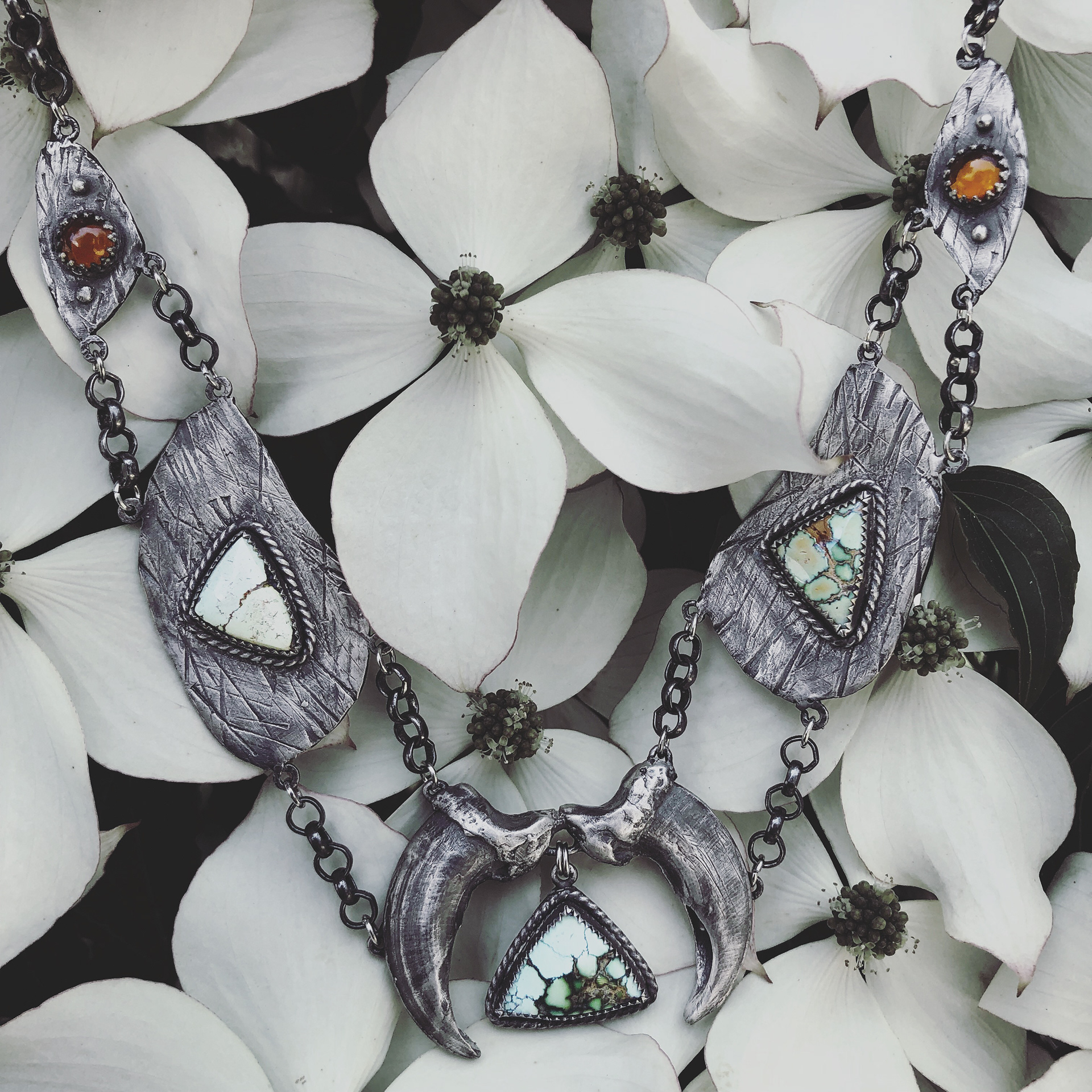 CZ: For example, the coffin earrings are killer! What is the story behind those?
AR:
Organic materials are my favorite to work with, but I also find a lot of cool things while antiquing or visiting oddity markets! When I stumbled across a collection of coffin nails I just knew I had to make something special with them! They're one of the tough objects I can't simply cast or cut and solder very easily, so I created a mold of my favorite ones which lets me produce wax duplicates. Each pair is hand cut, cleaned, and shaped into the design before being cast in metal. Every pair is completely one of a kind and special. It also gives me a lot of freedom to experiment with new shapes and styles! Coffin nails have long been used in spells for curses or protection. Again, a lot of the adornment I make is rooted in the idea of being protective so I thought they'd be interesting to work with because of their history.
CZ: What advice would you give to other creatives interested in making their own jewelry?
AR:
Go for it! I've met so many jewelers ... some went to school, some were self-taught, some start as kids, some don't learn until they're in their 70s! It doesn't matter what your background is and it's never too late to try. There are plenty places that offer affordable work spaces, classes, and workshops. I suggest just do some research on what's available nearby. There are even online classes or videos. Also, ask questions! Many artists are more than happy to offer feedback and advice when they can.
It's also important to keep in mind that there is SO MUCH jewelry out there nowadays. If you can think of it, it's probably already been done in some form. It's cool to be inspired by other artists, but put in the work to make things your own. Expand upon your ideas, push them to new limits, and make something that is completely and uniquely yours.
[Feminism] means putting in the same work for ALL of the marginalized and oppressed. It means confronting and breaking free from antiquated gender roles and stereotypes for both men and women.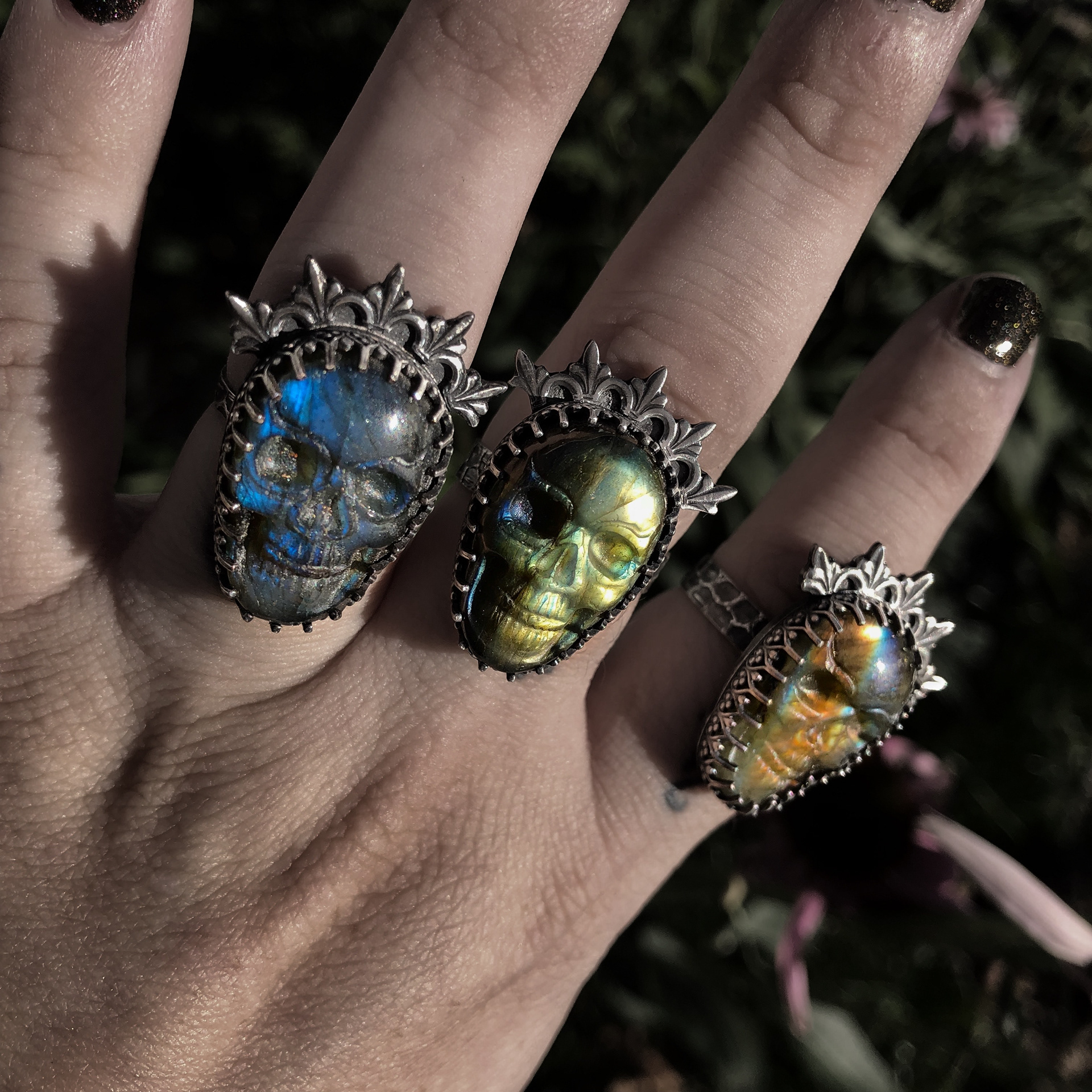 CZ: What is next for you?! Have you considered venturing into other mediums?
AR:
I'm currently working on a collaboration with another jeweler, Julian De La Garza. We plan on releasing a small line of jewelry this year. He works a lot with 3D printing so I'm thrilled to learn a bit more about that process!
I would definitely love to experiment with other mediums. I've been itching to try lapidary. Even though it's closely related to jewelry making, stones are such a different material to work with. I think it would open up a whole world of possibilities. I'd also love to do some collab projects with other artisans who use different mediums. It's really cool to be able to work with other artists, because you both give and take from each other and the feedback you get from someone who works with a different material altogether can be really insightful. I'm open to a lot of things, we'll see what happens!
CZ: Lastly, what does "feminism" mean to you?
AR:
I guess to put it in a few simple sentences, for me, feminism means equality and equal opportunity. It means building a world where our daughters don't have a doubt in their mind about what they can do and accomplish. It means putting in the same work for ALL of the marginalized and oppressed. It means confronting and breaking free from antiquated gender roles and stereotypes for both men and women. I could probably spend days writing more - there's obviously a lot more complexity to all of it that's hard to cover in a paragraph - but these are some of the first thoughts that come to mind.
AR:
Feminism is something really important to me that I think about on a daily basis; it affects every facet of my life and it's steeped in a ton of emotion for me. So I was surprised it was oddly a little difficult for me to transcribe my feelings into words with this question. Throughout childhood I was constantly being told I couldn't do things because I was a girl, and I heard the women I grew up around often being generalized as bitchy, crazy, and hysterical. Even as a kid it felt inherently icky and wrong. It motivated me to want a hand in confronting and starting conversations about these things. I think it's also what drew me to the particular artisan/jeweler/witchy communities that I'm immersed in. There's something very empowering about it and there are so many amazing people using their artwork as a catalyst for change. I'd like to be a part of that.