Katelyn Kopenhaver has been a part of the Cooties community from the start! Her work was included in our first print issue,"Ladies of Change." We were so excited to catch up with her at her group show at Pen + Bush. Pen + Brush is a 125-year-old publicly supported not-for-profit fighting for gender equity in the arts. P+B provides a platform to showcase the work of female artists and writers to a broader audience with the ultimate goal of affecting real change within the marketplace. 
Katelyn Kopenhaver is a photographer and multimedia artist living in New York City originally from Doylestown, Pennsylvania. Alumni from the School of Visual Arts (2016) she currently works as a freelance artist and photographer. Kopenhaver is renowned for capturing the unspoken truths and natural essence of her subjects through an authentic and unique way of working. She has had numerous photography publications, exhibitions, and artist write-ups both nationally and internationally including New York Magazine, The Brooklyn Rail, and Netflix. She is in current collaboration with jewelry company Article 22, and just exhibited at Pen + Brush Gallery with artists Renee Cox and Paola Martínez Fiterre.
Crystelle Colucci (Cooties Zine):
"There are a lot of pieces included in this show of yours from different periods in your art career. Do you see these pieces as a whole series, or are they with separate intentions? "
Katelyn Kopenhaver:
"Yes. I believe all the work is closely related, even as it is a progression! It's really wild when you see that happening - artist hammering away at the same concept multiple different ways. It feels different in the moment, because it is, the context of the work is shifting, but I'm really addressing the same thing over and over again with more revision and reinvention each time. Each piece in the show can stand alone, but having them all together is even more intense and disturbing."
CC:
"The video piece you included was unique in its entrance and its size. What is the significance of almost force your audience to experience?"
KK:
"I wanted people to feel trapped and claustrophobic. Your back is quite literally, "against the wall." The videos connote my personal paranoia and around the clock anxiety of abduction. Even broader, the videos culturally speak about how abduction is constantly happening around the world. Even when you wait for the train or comb your hair someone is getting ripped from their reality, and you, you're fine. That to me is terrifying. "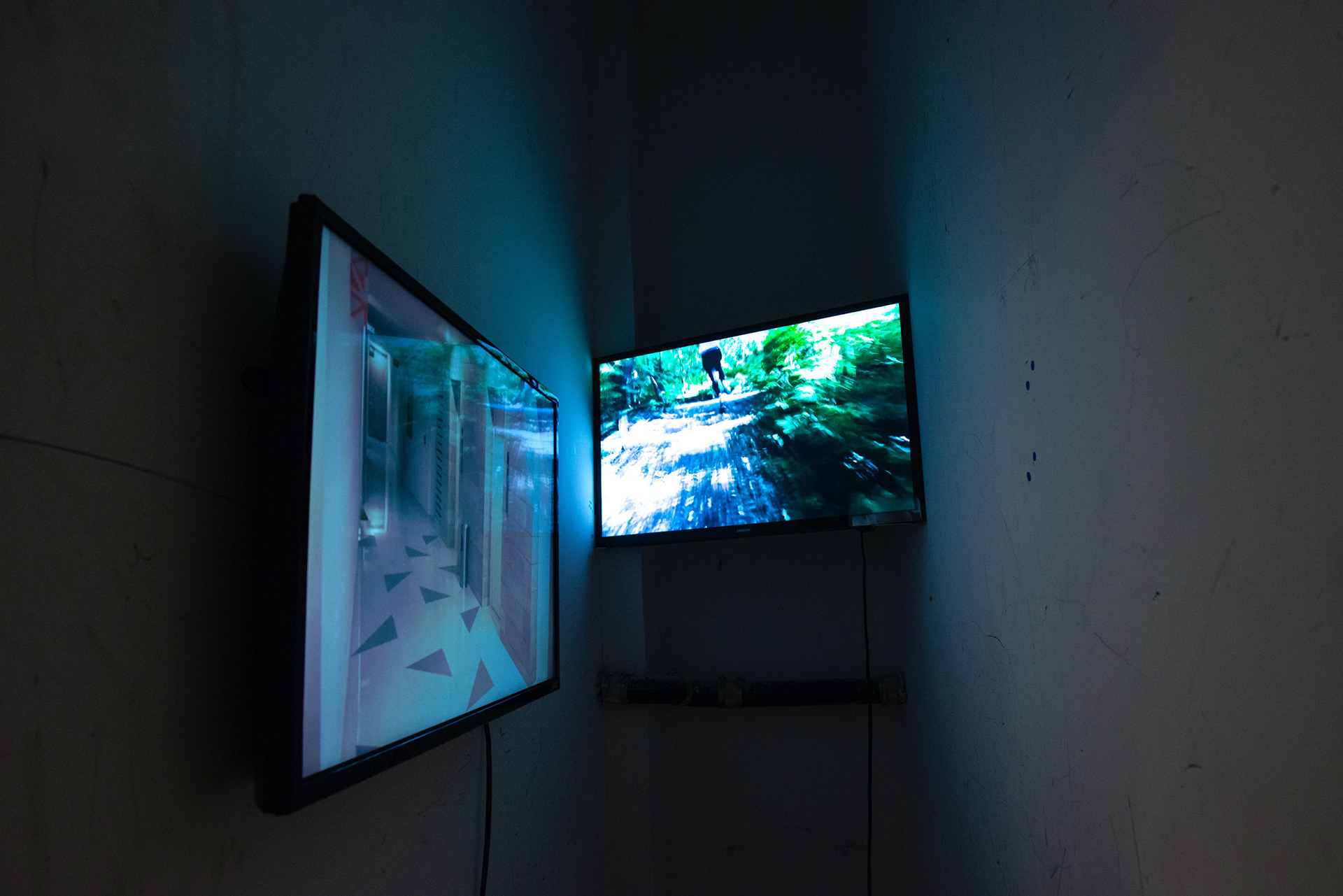 CC:
"You often use text in your work - simple yet strong, how did this originate? "
KK:
"I always loved type and language. Words can literally go through someone, its intoxicating. I inherently had a way with layout and design, but conceptually, language has the ability to go right to point, or also preserve mystery. I started using it in college works and photographs, but the PREY coat made in 2015 was really my first most successful attempt. I also began writing poetry, this opened up another artistic portal during a difficult time. "Thank god you have words," I was told once. I dove into artists like Barbara Kruger, Jenny Holzer, Bruce Nauman, Richard Prince, Ed Ruscha, Lawrence Weiner, Glenn Ligon, Christopher Wool, so much because of it. As an artist you can break all the rules, no proper grammar or syntax. I am constantly reminding myself of these things - to break from the consensus of MLA and mess sh*t up. It's freeing yet immensely difficult at times -  but when you get a good set of words, you know it. "
CC:
"Tell us about the performance that we unfortunately missed and what that added to the exhibition? You have been experimenting more with performance, how has that transition been like?"
KK:
"You could slice the room with a knife the energy was so thick," my friend Daniel, said. Brown Hair, Brown Eyes was a sequence of scenes unrelated to one another that spoke about predation, violence, and abduction. My partner, Kevin, was my abductor and the two of us were completely relentless. We had two free standing doors, and the space in between the doors represented a room where events would happen. Outside the doors there was one bathroom on the far left and storage space on the far right; this is where Kevin would drag me and where our props were placed. You never knew what "Katelyn" or what "Kevin" was going to walk through the door. The times in between scenes I was told were extremely uncomfortable because my abduction video played in the background, so every 30 seconds or so you would hear my screams from the closet. We had scenes from the everyday experience of going to bed, or someone knocking on the door to "inspect the water." Strangers who try to come into our apartment. We played some scenes on repeat, with different outcomes. Some scenes we were "ourselves" or "myself" and nothing happened at all. We had scenes where I was drugged, where I escaped out of a body bag, a scene where I was trying to remember what my attacker looked like. To scenes that were completely outside of reality and were representative of my personal dreams of being followed. I had a scene where I poked fun at performance art, and even asked the audience, "Is a performance happening? How is it?! What's going on?!" The audience were innocent bystanders, watching a "performance" but also never did anything to help me. I had women who came up to me later saying "I wish I pushed or tripped him! [Kevin]."  Commentary on who helps during crimes and who does not was also made. I went around profusely with muted green paint and stated multiple times "NO ONE HELPED KATELYN HERE..OR HERE" and placed a marks on the wall or floor where no one helped Katelyn."
"It was intense, and the transition is terrifying but I had no choice, I felt compelled to do it. Once you drop the fear and self doubt, it's just another way of expression. Photographs are deathly silent, performance art lets me breathe, move and speak, it's so liberating."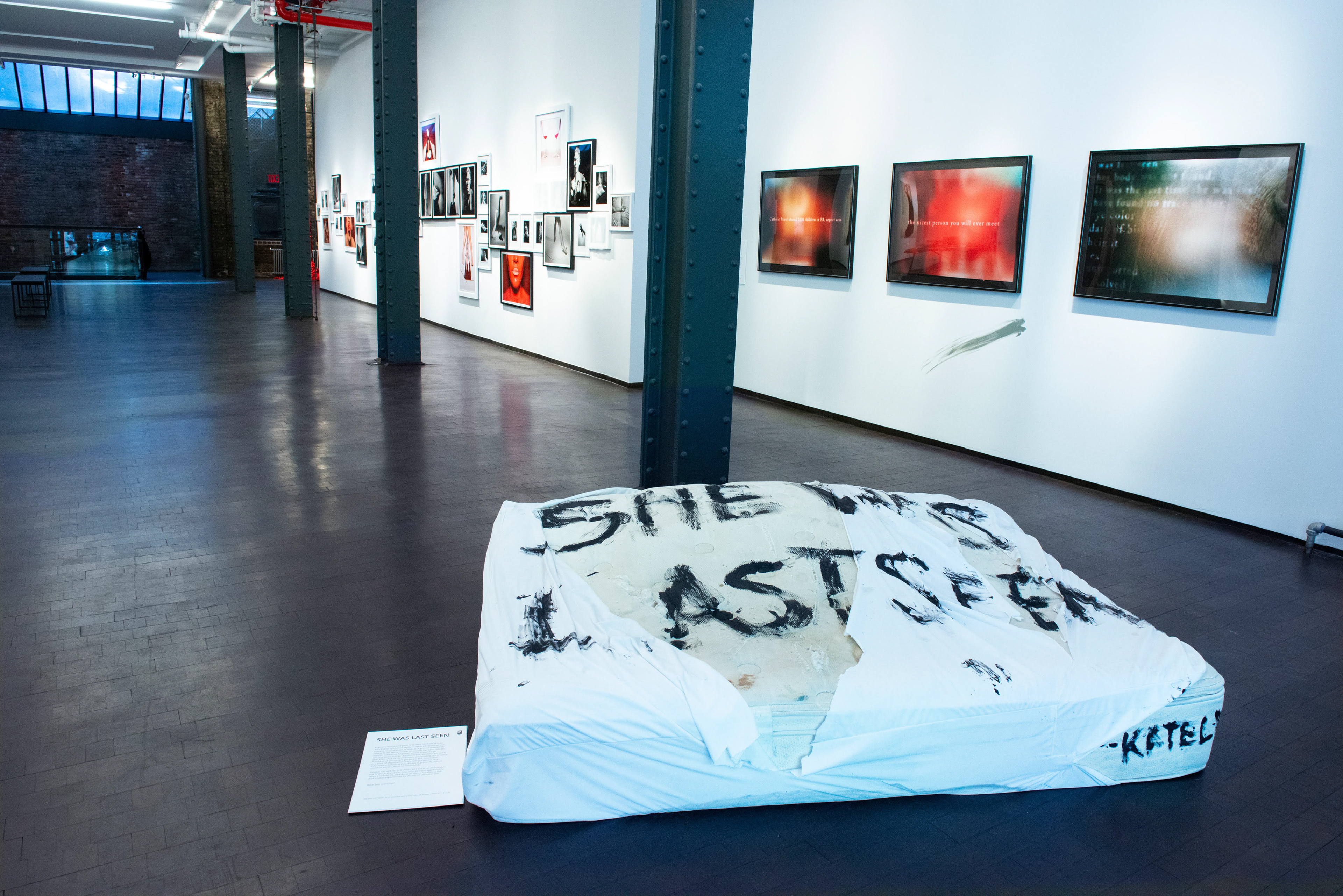 CC:
"Let's talk about Pen + Brush, you have shown your work and performed here in the past, Can you talk about the importance of that relationship?"
KK:
"Yes! Pen + Brush and the women who run that space are astounding. They genuinely care about the work and their artists so much - and you can tell.  Its extremely rare to come across spaces that give you so much creative control, and encouragement for your ideas. Let alone spaces and individuals that align with you and your mantra.  You keep these kinds of relationships with you forever. I am immensely grateful."
CC:
"It's been incredible to watch you grow as an artist, what's next for you?"
KK:
"Thank you! It has been a wild ride. Currently I am working on a collaboration with jewelry company Article22 where I will be having my phrase "NOT FOR SALE" on a bangle! Article22 is a special company who transforms debris from war into jewelry. I am very honored and thrilled to join forces with them and to have my very own piece!"